This week is now just about over and boy has it been a real doozy...

First, P-Swayze, original OG, died earlier this week. This whole summer has been a giant death-fest for celebrities (something like 12 have died since June).


So Long Swayze.
Next we had the big Grand Slam fiascoes. First, number one seeded Federa lost to sixth seeded Juan Martin del Potro (that's a lot of names). As if the upset wasn't enough, Serena Williams went aggro and nearly shoved a ball down a little asian woman's throat. The poor woman nearly wet herself and went off to tell the suits about the incident, which ended up costing Serena the match point. Something has been eating away at athletes recently, turning them into vocal haters. Maybe it's the new G....


And speaking of haters, all anyone talked about for three days (a few more now, thanks to me) was Kanye West's interruption at the VMAs. This isn't the real footage, but it kills two birds with one stone. Obviously Obama's address wasn't technically this week, but still, it's close enough and it's way funnier this way.




Finally, and maybe the most exciting news, in my own personal opinion is the
discovery of the miniRex
or whatever they're going to call it. Look at this thing (it's the little one that looks like a raptor, but really is a mini version of the behemoth above it).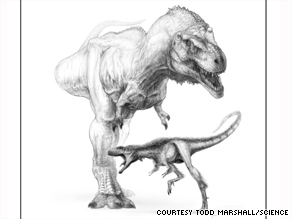 It's like a baby T-Rex. I was a pretty massive Jurassic Park fan so I'm eagerly anticipating a goldbloom comback (thank goodness his death rumors were fake) in the form of Jurrasic Park 6, or something, featuring the new dinosaur on the block.
I've got something else to add. This week was huge for me on a personal level for one reason. It's called Mad Men and I'm officially caught up. It's infectious and while it doesn't really fit with my experiences in advertising, I'm working very hard to make it. Now I'll have to join Cromer and Luker outside for smoke breaks and start bringing in fifths of rye in each week. Plus I'll need a suit. What's a good tailor in town?